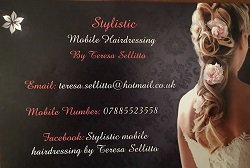 Stylistic Mobile Hairdressing
I'm a unisex mobile hairdresser with 28yrs experience .
Reviews
Add your review
5
from 6 reviews
5
Teresa was great, as my mum has been shielding needed someone to cut her at home. Teresa was great to communicate with when booking the appointment, came on time, bubbly personality and professional and really good prices. My mum was super happy.
Rakhee 30 Aug 2020
5
Teresa came over yesterday to cut & colour my hair & to cut my little boys hair and I honestly cannot rate her highly enough.Such a lovely lady & a fab hairdresser. My colour is perfect & she did exactly as I asked cut wise for us both. Looking forward to seeing her again in 6 weeks time! x
Natalie 31 Aug 2018
5
The very best hairdresser she is friendly honest genuine and had the patience of a saint. My sen daughter adores her which is a big thing as a parent to find someone you can trust so much to say do what you want and know 100% it will be amazing. Love this lady have had her for years
Jane 26 Aug 2018
5
By far the best hairdresser I have ever used or had. Not only a hairdresser but a loving kind friend more like family listens to everything you ask for and goes out of her way to make sure it's the perfect look you want I think iv finally found my hairdresser for life
Heather 12 Jul 2018
Hairdresser 5
Teresa has been my hairdresser for over 20 years and I cannot fault her. She is an amazing hairdresser with colours and cutting who does listen to what you want and she will try to be honest with you as to weather or not it will suit your hair type
Lynn Jackson 12 Jul 2018
5
Amazing hairdresser. Teresa has been doing my hair for years. Honest and listens to what you want.
Ciara panayiotou 6 Jan 2018